All but one of Major League Baseball's thirty clubs have now staged their home openers. Sun Trust Park in suburban Atlanta awaits to be christened on Friday night.  Julio Teheran will open the Braves new home against the visiting Padres.
Out of the twenty-nine season premiers that have been staged so far there was one that was over a century in the making.  Before Monday night's home opener at Wrigley Field, the Cubs held a ceremony for the first time in 108 years!  They raised the World Series Championship flag and paraded the World Series Trophy!
Chicago Cubs take turns raising the 2016 World Series Flag at Wrigley Field Monday night.
So how do you put the finishing touches on a championship 108 years in the making? Well, the Cubs literally did it themselves!  Members of the squad went into the bleachers and took turns raising the championship banner up the flagpole.  Let it be known for all time that the curse is over, the drought has ended.  The 2016 World Series Championship banner now hangs amid the iconic scoreboard and team flags.  The W's and L's for years to come will hang in the shadow of the biggest Cubs flag of them all.
Oh and by the way, the Cubs hosted the Los Angeles Dodgers on Monday night.  Yes, the same Dodgers that were on the wrong end of history last October, when the Cubs headed back to the Series for the first time since 1945.
How did things end on this magical night on the Near North Side of Chicago?  It ended with a walk-off single, courtesy of Anthony Rizzo!  It ended with a 3-2 Cubs win!  It ended with the "W" flag hanging next to what is now its big brother!
The Cubs will receive their championship rings tonight.
Besides the heroics at the Friendly Confines, there were other highlights during the first week and a half of the 2017 season.  New York Mets left-fielder Yoenis Cespedes launched three home runs last night in Philadelphia.  The Mets tallied 20 total hits in a 14-4 route of the Phillies.
The Phillies had an explosion of their own on Saturday night against Washington.  Philadelphia erupted for twelve runs in the bottom of the first inning on their way to a 17-3 victory.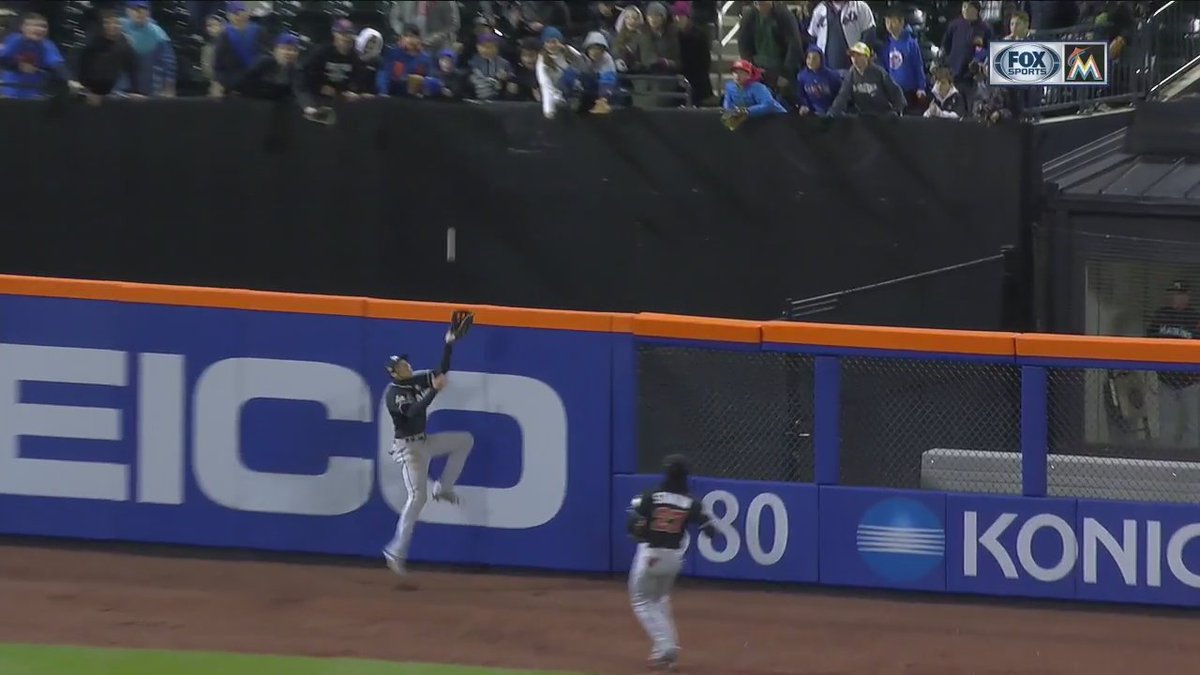 This week's defensive gem belongs to Miami's center-fielder Christian Yelich.
On Saturday night at Citi Field in New York, Marlins outfielder Christian Yelich robbed Cespedes of what would've been either a home run or a double.  This is my defensive gem of the week.  Miami defeated the home standing Mets 8-1.
That's it for this week.  I'll be back next Wednesday for more!