Last week I chronicled the healing events that went on at the BB&T Center in Sunrise. On an emotionally charged evening, the Florida Panthers played their first home game since the tragedy at Parkland's Marjory Stoneman Douglas High School. A moving ceremony began an evening that ended with a late game comeback and eventual victory for Broward County's only professional sports team.
This is kind of a slow time of year in the sports world, and quite honestly, I was at a bit of a loss as to what to write about this week. Since my Wednesday Night Baseball piece returned this week I have taken Spring Training off of the table for Sundays. That left the calm before the storm in college basketball, the National Hockey League, and the National Basketball Association. March Madness will usher in the slate of spring hysteria in two weeks, but it's a little to early to get excited about it. The Stanley Cup and NBA Playoffs will follow along with baseball's Opening Day. The truth is that right now the NFL is showcasing its annual scouting combine while basketball at both levels and hockey are still on auto-pilot.
My dilemma was brought into focus this past Tuesday night.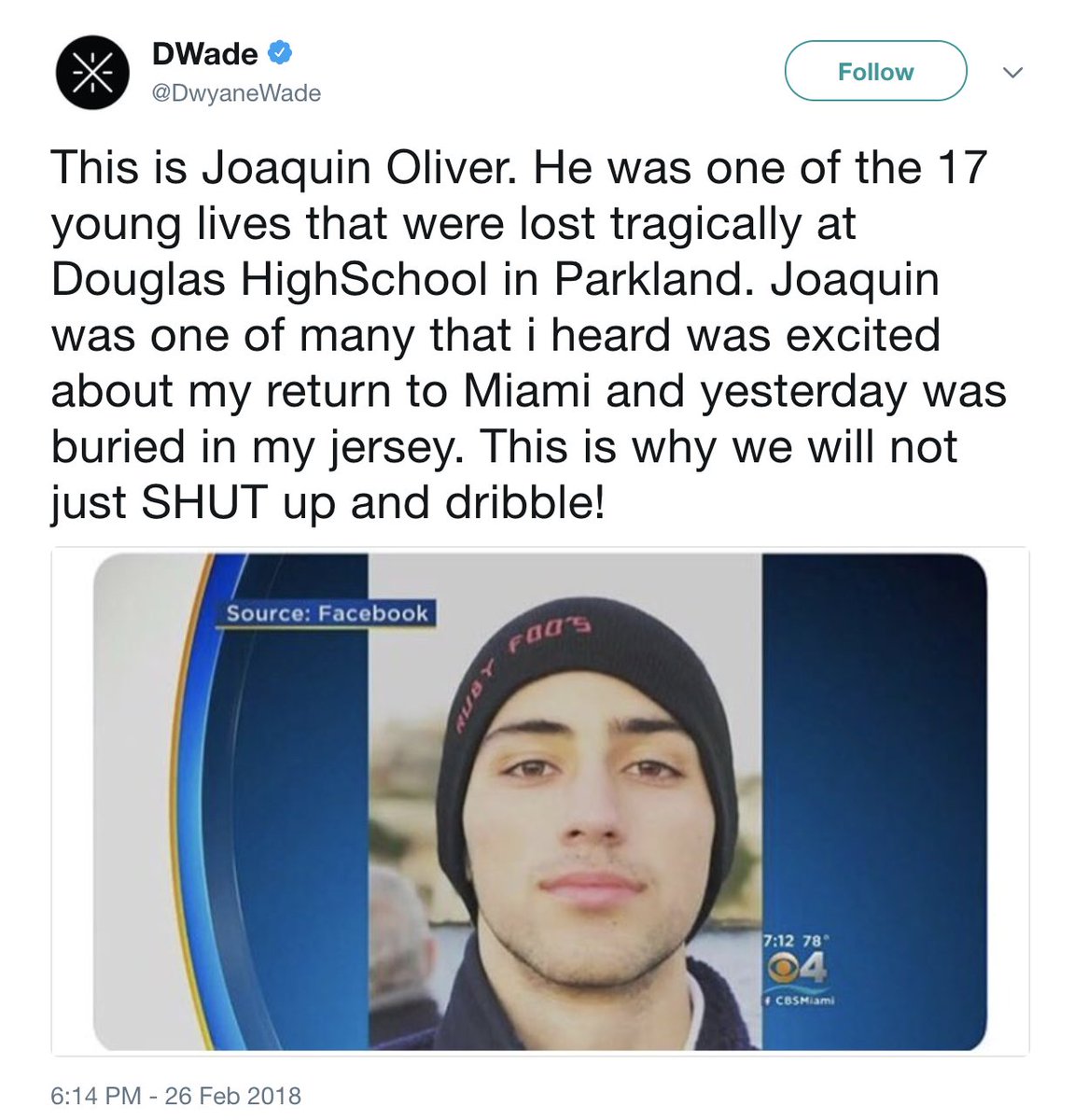 Stoneman Douglas shooting victim Joaquin Oliver was laid to rest wearing a Dwyane Wade basketball jersey.
Students returned to Stoneman Douglas High School on Wednesday morning. Amid all of the moving on and attempts to return to normal, what happened in both Downtown Miami's American Airlines Arena and Sunrise's BB&T Center on Tuesday night was flat-out amazing.
One of the victims of the shooting, 17-year-old Joaquin Oliver was a big fan of the Miami Heat. He idolized Dwyane Wade in particular. After stints in Chicago and Cleveland, Wade returned to Miami via a trade on February 8th. All of South Florida celebrated the return of the future Hall of Famer, including many attending Stoneman Douglas. Little did we know that a mere six days later, a little suburb of Ft. Lauderdale was going to gain world-wide attention for a dubious reason.
Joaquin Oliver lost his life just six days after his hero returned home. Like many South Florida basketball fans, Oliver owned a Heat jersey bearing Wade's name and his number 3. Joaquin Oliver was laid to rest in that jersey. Dwyane Wade wore Joaquin Oliver's name on his shoes Tuesday Night.
Much like the Florida Panthers' arm patch honoring the victims, the Heat are also donning a black ribbon on their jerseys for the remainder of the season. Not to keep them out of the loop, the Miami Marlins are currently doing the same thing on their Spring Training jerseys.
Both the Heat and the Panthers are currently battling to make the playoffs. Both teams saw action in critical games on the night before Marjory Stoneman Douglas re-opened for business.
Dwyane Wade shot the game winning basket to defeat the Philadelphia 76ers on Tuesday night. Wade paid homage to shooting victim Joaquin Oliver that night.
In Tuesday night's game at the American Airlines Arena in Miami, Wade seemed inspired by the fallen seventeen. He scored 15 of Miami's final 17 points in the contest and sunk the game winner with 5.9 seconds left on the clock. The Heat defeated Philadelphia by the score of 102-101.
Wade's heroics on Tuesday night came on the heals of another local star's late game winner. Just five days earlier, it was Vincent Trocheck of the Panthers sealing a victory over the Washington Capitals with 18.7 seconds left.
Florida Panthers' Jared McCann celebrates after scoring the game winning goal vs. the Toronto Maple Leafs shortly after Miami Heat's Dwyane Wade sinks the winning basket vs the Philadelphia 76ers just a few miles away.
All of the heroics, and all of the stories surrounding Dwyane Wade and his salute to the students of Stoneman Douglas High School would have usually stood on its own. Tuesday night became even more magical in the South Florida community around an hour later. This time the drama unfolded further north in the area's other arena.
On the same rink that Roberto Luongo brought the community to tears with a speech, on the same rink that Nick Bjugstad brought the Panthers back to life and Vincent Trocheck scored one of the biggest goals in South Florida hockey history, there was more to take place. The Panthers were playing yet another huge game in the standings against the visiting Toronto Maple Leafs. The game was in overtime shortly after the basketball game concluded in Miami. This time the hero was little known center Jared McCann!
With a little over a minute remaining in the extra period, McCann took a feed from defenseman Aaron Ekblad. He then shot the puck past Toronto goaltender Curtis McElhinney to seal a 3-2 victory for Florida.
The events that took place on a court in Miami and a rink in Sunrise on Tuesday night were further examples of how sports are part of the healing process in the face of a tragedy. South Florida's basketball fans and hockey fans had reasons to rejoice. A grieving community rallied around a welcomed back hero and then around a third line center.
What Vincent Trocheck's last second goal last week meant to South Florida took me back to Mike Piazza's walk off home run in 2001 and what it meant to the New York area. Wade's basket and McCann's goal within an hour of each other adds even more healing to a community still mourning the unthinkable.
You can't make this stuff up! I am in awe of how two unrelated events in two different arenas in neighboring counties can occur within an hour of each other. It further floors me that this occurred just hours before 3000 surviving students and teachers had to try to pick up the pieces and figure out a new normal.