I want to begin today's article by wishing all my fellow fathers, as well as the single mom's who fill both rolls, a Happy and Healthy Father's Day.  To me, this is an extra special Father's Day as I welcome my son-in-law Matt to the ranks!  Welcome aboard son!
Today, I continue my thoughts from Wednesday, but this chapter is on a personal level.  I will reflect back on the first sporting event that I shared with my father, David Karpel.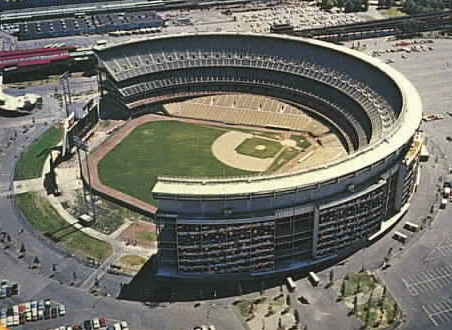 Shea Stadium in New York, as it looked in 1969 when I went to my first ballgame with my father.
I take you back to the summer or 1968, when my older brother (we are a mere 15 months apart in age) had an opportunity to go to his first Mets game.  I couldn't understand why I couldn't go too.  My father and mother thought that Shea Stadium was no place for six-year-old.  It was one of a very few times when our fine line in age ever came into play.   That disappointment waned very quickly. A year later I came of age, and in the summer of 1969, my dad, and his two oldest sons were off to the big ballpark in Flushing.
Looking back on that wonderful summer day, during that unforgettable year as a Mets fan, how special it was!  I had so many questions!  The Mets were playing the San Francisco Giants that afternoon, and this wide-eyed seven-year old boy was full of questions.  Is that Willie Mays?, is that really Gaylord Perry taking the mound?  Where's Tom Seaver?  How come nobody is announcing the game?  Dad had an answer for everything that day.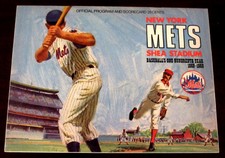 It was in the centerfold of a New York Mets Program & Scorecard where my father taught me to keep score of a baseball game.
The one thing that intrigued me the most that day was when we entered the ballpark. There was a guy selling programs at the entrance.  My dad didn't hesitate to buy one. He always did and I found out why that afternoon.  As I looked up at the massive right field scoreboard I noticed the out of town scoreboards, as well as the lineups using the players' uniform numbers.  My dad was looking at the lineups and writing the players names and positions down in order of when they were going to hit.  It was then that he showed me what a scorecard looked like.  As the game went on he would record each player's at bat. I spent most of my childhood years keeping score of baseball games using what I learned that day.   I passed the art of keeping score to my son years later.
Right field scoreboard at Shea Stadium as it looked in 1969.
I don't remember who won that game.  I do remember that future Hall of Famer Gaylord Perry started for the Giants and Gary Gentry started for the Mets.  We all know of the magical ride that the Mets took their fans on in the latter stages of the 1969 season, but that one Saturday afternoon will stay with me for the rest of my life.
I dedicate this article to you, Dad.  Thank you for not only teaching me about the fun and games of the sports world, but about life and how to live it.  You were tough on me as a kid at times. The toughness that came from both you and Mom has molded me into the caring and loving father and grandfather that I am today.